KARTING/QUARTER MIDGETS
---
s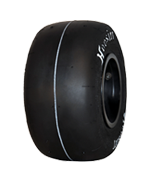 SPRINT KARTING: Hoosier Racing Tire offers a comprehensive line of dry and wet weather kart tires designed specifically for sprint, autocross, enduro and super kart applications. Hoosier's high quality products provide drivers of any experience level with a tire that meets their high performance needs. 
Hoosier's diverse product line consists of tires that are suitable for various types of 2-cycle and 4-cycle kart racing.
These applications include open competition racing - where ultimate performance is paramount,  spec tire racing – which is defined by consistency in performance over multiple sessions, and entry level/economy racing - where a low cost tire that exhibits superior wear characteristics is ideal.  
---
QUARTER MIDGETS/OVAL KARTING: For the past 11 years, Hoosier Tire has strived to produce some of the best racing tires in the quarter midget/oval karting world.  Hoosier is committed through testing and development to keep our product ahead of the competition.
Whether you are sliding on the dirt or hooked to the asphalt, Hoosier has the tire you need.  Hoosier produces slicks with varied compounds that are compatible on both dirt/asphalt surfaces.  Hoosier also produces treaded tires with varied compounds to be used on the dirt.
Quarter midgets, flat karts, and wing karts on Hoosier Tires have all been where every driver wants to be...victory lane!  
---
TO ORDER ONLINE, CLICK ON THE TYPE OF TIRE YOU NEED: